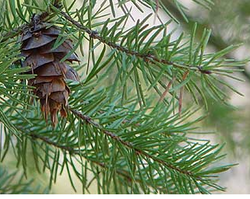 Douglas fir (Pseudotsuga menziesii) 6 feet tall, hundreds available,
$15-$25 (depending on size and condition)
Doug fir is a rapidly growing native conifer that can grow to 250 feet tall! Not in your lifetime though. A reliable component of any landscape plan, this tree does well in full sun or part shade. This is the most abundant conifer, and important for wildlife and beauty.

One of the interesting things that Douglas fir trees (and other large conifers) are thought to do is water nearby shrubs with their shallower roots. Their deep roots access deeper groundwater, draw it up the tree, and at night, the water is "exhaled" into their shallower roots, thus watering the smaller plants that don't have access to the deeper groundwater. Pretty cool.
---